The College of Veterinary Medicine and Biomedical Sciences welcomes Jillian Glantz as a new Production Program Coordinator for the Center for Educational Technologies (CET). Jillian is a talented director, producer, and writer. Jillian received her Bachelor of Arts in Political Science with minors in criminal justice and Mexican American studies from the University of Texas at Rio Grande Valley. She began her film making career with internships with Austin director, Richard Linklater, and L.A. producer, David Foster. She has directed and produced several of her own short films, and released a documentary entitled Remember My Soul, which tells the story of Jewish roots in northern Mexico and South Texas. She is an Engaged Scholar recipient and was awarded a grant from the Texas Jewish Historical Society for her documentary. The documentary may be found in the Israel and Judaica Section Video Collection  at the Library of Congress.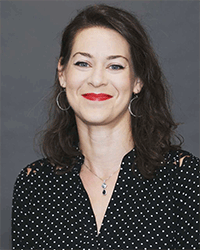 In her role, Jillian is responsible for the production of all video and audio materials for the Center for Educational Technologies' projects. She will work closely with instructional designers and clients to develop storyboards, refine video scripts, review, and assist in the preparation of shot lists, and coordinate logistics related to all media production and talent management.
Jillian is a compassionate person. She is an advocate for human-rights and animals. She has served in the Cindy McCain anti-human trafficking project and volunteered at local animal shelters.
The Center is fortunate to have Jillian as a part of our team. Her talent and experience in film making, combined with her creativity, will help the CET remain the vanguard of veterinary medicine's instructional films,"

said Dr. Nicola Ritter, the Director of the Center for Educational Technologies and Instructional Associate Professor at Texas A&M University College of Veterinary Medicine and Biomedical Sciences.