The Center for Educational Technologies hosted a Lunch & Learn for CVM Faculty on May 8th and May 22nd. The two sessions introduced faculty to StepStone, an eLearning authoring tool created by the Center for Educational Technologies. StepStone allows educators to create online learning modules accessible from any Internet-enabled device. Dr. Jordan Tayce, Instructional Assistant Professor and Tim Ponder, Instructional Technologist, led the hands-on training event. This training session offered the StepStone user community a chance to meet each other in person and work alongside each other at an appointed time. Participants logged into stepstonelearning.net and built their own online modules alongside their colleagues. From case studies to adaptive learning environments, faculty created the type of online activities that work for their class.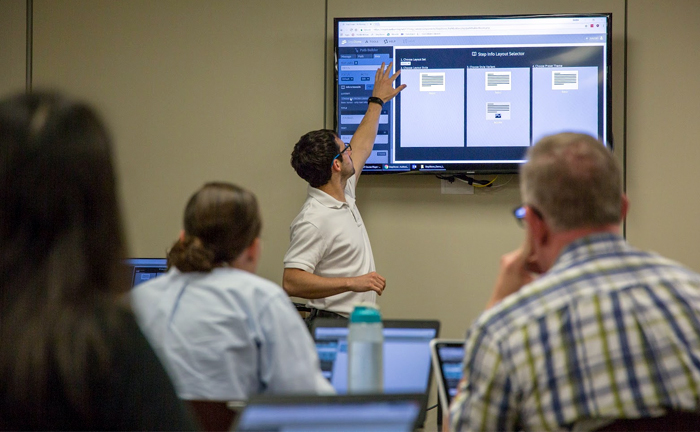 "These two training sessions are just the first of our Lunch & Learn series," says Danelle Weaver, Program Manager of the Center for Educational Technologies. "We want to use these Lunch & Learns to equip and empower faculty to transform their teaching at the CVM."
"StepStone is a tangible example of the College of Veterinary Medicine & Biomedical Sciences efforts in supporting Texas A&M University's academic innovation initiatives. We specifically designed StepStone with educators in mind," said Dr. Nicola Ritter, Director for the Center for Educational Technologies. "We wanted to provide a tool that allows instructors to rapidly produce eLearning materials to meet their discipline's education needs."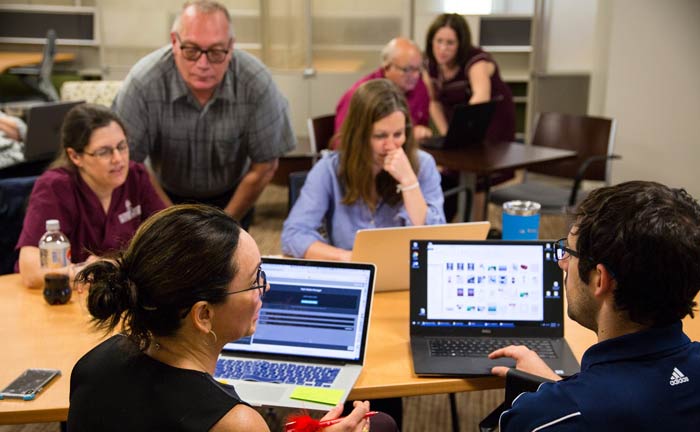 In 2016, Texas A&M University made StepStone available to license to other institutions. Since its release, 5 universities, corporations, and federal agencies have adopted StepStone to create online educational materials. Funding for the development and ongoing maintenance of StepStone is provided by the Professional Programs Office at the College of Veterinary Medicine. For more information about StepStone, go our website at www.tamucet.org.
About the Center for Educational Technologies:
The CET's mission is to advance veterinary education research by developing innovative learning materials and educational tools. From classroom-based activities to online learning, each solution the CET develops incorporates the latest in emerging and evolving technologies to transform conventional instructional materials into engaging educational tools. The CET's entrepreneurial arm licenses a catalog of more than 180 web-based resources to veterinary colleges, continuing education providers, and veterinarians, offering another mechanism to foster the advancement of veterinary education.