Donate to the Center for Educational Technologies
Your Contribution is Meaningful
We develop high-value training programs and cutting edge educational innovations. Your gift will provide just-in-time training resources and bring early stage veterinary technologies to life.
The Impact of Your Donation
By giving to the CET, you are joining us in inciting educational revolution in the form of technological innovation and purposeful collaboration. You enable our team to do the work of bringing significant and consequential research to light, and that means you're advancing our ability to make waves in our world, both local and global.
From enabling the team to power research into the public eye, to empowering our future veterinary practitioners, your donation propels education forward. It takes work to bring the pioneering research done in labs to the public. The CET brings out what is developed in the labs through our Veterinary Innovation & Commercialization Program (VICP).
In partnership with numerous faculty at the Texas A&M University School of Veterinary Medicine and Biomedical Sciences, the CET designs, develops and hosts rigorous online learning modules, case studies, and videos spanning numerous specialties in veterinary medicine. To date, 36 faculty from 33 universities from around the globe are using these resources to teach veterinary medicine online to over 1300 veterinary students. These materials are used in the TAMU DVM curriculum as well as are licensed to other institutions across the globe for an annual fee.
Born out of the need for a flexible web-based authoring tool for content creators, the CET team developed StepStone, a powerful software that allows educators to create a variety of learning experiences accessible from any internet-enabled device.  This copyrighted software is in use by the CET and is licensed to other educators for an annual fee. Learn more about StepStone.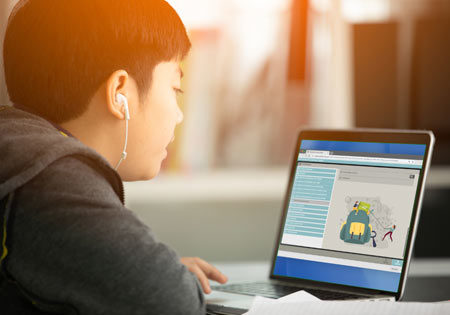 The CET developed a platform to enhance and host K-12 One Health curricular materials for the PEER Program at Texas A&M VMBS. Redesigned using StepStone software, these materials now include engaging, motivational content such as: fictional stories, scientist biographies and videos, science journal articles, and interactive games; all accessible on mobile devices. To date, over 90 teachers across 15 states are accessing this content for use in their classrooms.
In collaboration with a TAMU VMBS faculty member, the CET designed and built Murmur Learner, an online learning module which features a series of lessons designed to optimize learning through a unique combination of synchronized audio, video, and animations that explain how murmurs and arrhythmias are generated and classified. This resource  is utilized in the TAMU DVM curriculum as well as licensed to other institutions across the globe for use in their classrooms and on skills lab kiosks for an annual fee. Learn more about Murmur Learner.