In response to the COVID-19 pandemic, the Professional Programs Office and the Center for Educational Technologies at Texas A&M University have shared a catalog of online veterinary medicine resources to CVMs across the globe. With universities moving to online education, the need for rigorous online materials at the professional level created an overnight demand.
The group is offering these resources free of charge until July 1, 2020 to colleges of veterinary medicine and veterinary technology programs. The educational resources include online learning modules, case studies and videos. The resources cover topics including and not limited to: core surgical skills, hematology, blood smear evaluation and erythrocyte morphology, dentistry, dermatology, cardiology and physiology (hypothalamus-pituitary axis). Anyone may preview the content at: www.cvmcourses.com/courses. Those interested in using this content in their course may email the Center for Educational Technologies at cethelpdesk@cvm.tamu.edu.
"We believe sharing our resources is in the best interest of our profession and displays to all our core values of leadership and selfless service. We hope these resources will assist colleges of veterinary medicine during this time."

— Dr. Karen Cornell, Associate Dean of Professional Programs at Texas A&M University
Dr. Nicola Ritter, Director of the Center for Educational Technologies, noted, "As of March 2020, 36 faculty from 33 universities from around the globe are using these resources to teach veterinary medicine online. To date, over 1300 veterinary students are learning with these materials. We expect this number to grow over the next few weeks."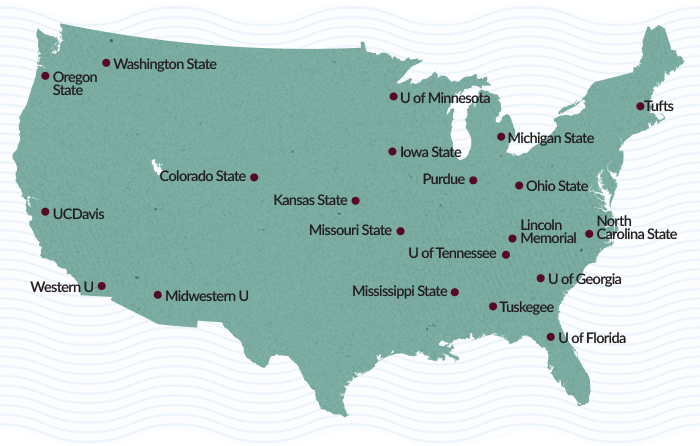 Numerous faculty from across all five departments at the college of veterinary medicine contributed to the creation of these materials including:
Dr. Clay Ashley
Dr. Carolyn Arnold
Dr. Audrey Cook
Dr. Jacqueline Davidson
Dr. Jonathon Dodd
Dr. Brandon Dominguez
Dr. Virginia Fajt
Dr. Laura Hammons
Dr. Johanna Hesletine
Dr. Tammi Krecek
Dr. Sara Lawhon
Dr. Glennon Mays
Dr. Mary Nabity
Dr. Medora Pashmakova
Dr. Laura Peycke
Dr. Nicola Ritter
Dr. Ashley Saunders
Dr. Karen Snowden
Dr. Jordan Tayce
Dr. Kelley Thieman
Dr. Kevin Washburn
Dr. Shannon Washburn
Additionally, faculty from other universities also contributed to the resources including:
Dr. Kevin Cummings, Cornell University
Dr. Phillipa Gibbons, Lincoln Memorial University
Dr. Dee Griffin, West Texas A&M University
Dr. Lawrence Hill, Colorado State University
Dr. Jessica Hokamp, The Ohio State University
Dr. Jodi Korich, Cornell University
Dr. Dan Posey, West Texas A&M University
Dr. Dan Smeak, Colorado State University
Samples of available resources offered at www.cvmcourses.com/courses:
---

About the Professional Programs Office at the College of Veterinary Medicine at Texas A&M University
The Professional Program is one of the largest veterinary graduate programs in the United States. We partner with universities across the state of Texas to deliver a modern, student-centered curriculum. In addition to the expertise at Texas A&M University, we leverage food production expertise from West Texas A&M University, dairy expertise from Tarleton State University, native and wildlife expertise from Texas A&M University – Kingsville, and sheep and goat expertise from Prairie View A&M University. We build leaders, promote wellness, and encourage inclusiveness and diversity.
About the Center for Educational Technologies' Hosting Services
The Center for Educational Technologies creates websites for numerous government and professional organizations to share their training resources. Our team will deliver your content where it is easily accessible to learners across the globe. Content may be customized with your personal branding while reporting features allow you to track learners' progress and grades. From setup to support, our team is here to help you establish a user-friendly learning environment. Content is available on all desktop and mobile devices through a web browser or offline through a mobile app.