This past Tuesday, the Center for Educational Technologies welcomed faculty to the first Lunch & Learn of 2019 entitled "Demystifying Digital Media." In this workshop, participants took a dive into the world of digital video, photography, and audio. Whether amateur photobug or experienced videographer, everyone was able to walk away having learned something new. For many attendees this workshop helped establish foundational knowledge by taking confusing, technical jargon and explaining it using everyday language. Led by Vince Chihak of the Center for Educational Technologies, the workshop explored the different media tools often underutilized or misunderstood by most users. It also allowed participants to visualize how these tools, when leveraged appropriately, can make a difference and influence how the media is received.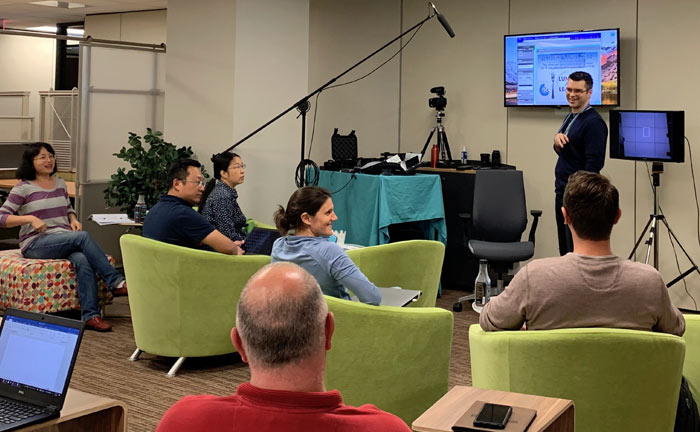 The field of digital media is rapidly changing, with almost everyone using some form of media in their personal and professional lives, whether conscious of it or not. By having a foundational understanding of the tools available to manipulate and capture any element or moment, one will become more comfortable and confident in practice. Working with new technology can be intimidating and confusing, however with practice and support those feelings can be replaced with confidence and a desire to grow in one's skills…according to Chihak you should, "Go in with a plan, but don't be afraid to toss it out." There is beauty in the learning process and the failures and triumphs can all be embraced as positive moments on your media journey.
Through the workshop, attendees were given numerous examples of simple tricks and techniques that bring the most out of one's pictures, video and audio recordings. Workflow tips, technical knowledge and suggested software can be found in this summary: PDF Download
Overall, the session was a clever combination of lecture, discussion, and examples, with attendees having the opportunity to reflect on their own skill level and practices.
Be on the lookout for more Lunch & Learn sessions this year hosted by the Center for Educational Technologies!