Jennifer Nary, a second-year veterinary student at the Texas A&M College of Veterinary Medicine & Biomedical Sciences (CVM), recently completed a Veterinary Entrepreneurship Academy (VEA) summer internship at the CVM's Center for Educational Technologies (CET).
This internship represented the first time a corporate sponsor from a veterinary school hosted a VEA intern.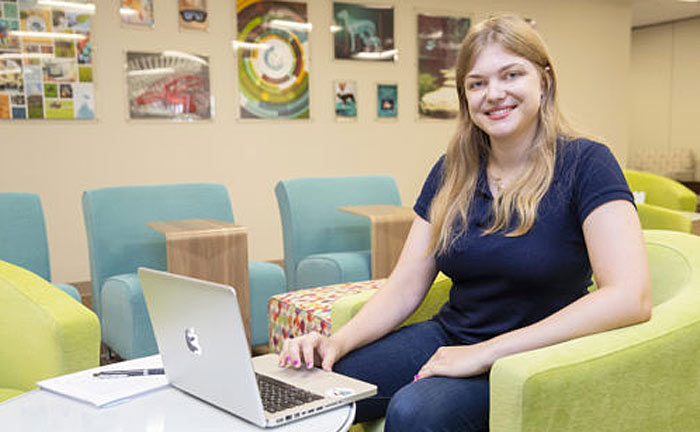 The VEA internship is a 10-week course in which students attend online class sessions twice a week while serving as interns for innovative veterinary companies. The students learn how to develop a business model canvas through the class sessions and then apply that information to the company at which they are interning.
Nary used the information she learned during class to create a business model canvas for StepStone, the CET's innovative content authoring software. She researched StepStone's resources, partners, competition, pricing, and customer profiles to help the CET further develop the software system.
"One of the weeks (in class) we talked about who the customer is at your company," Nary said. "Then our assignment for that week was to go out and actually speak to people who are customers and find out who they are, what their ages and professions are, and what they want to get out of the product."
After attending the online class sessions and completing her research assignments, Nary presented her findings to CET staff members in weekly meetings.
"Everyone always listened and actually gave feedback for that, which was nice; they seemed invested in it," she said.
Danelle Weaver, CET associate director, said that working with Nary this summer was both enjoyable and helpful.
"Her work here at the CET provided neutral ground that allowed for impactful discussion to occur," Weaver said. "These discussions guided us while we reexamined our vision, customer segments, assumptions, and whether it's time to pivot or preserve.
"We enjoyed getting to know Jennifer and look forward to continuing our relationship throughout the rest of her time here as a DVM student," she said.
In addition to being an interesting experience, this internship also helped Nary learn more about what it takes to start and run a veterinary-related business.
"The biggest thing I learned is the thought process that goes behind everything," Nary said.
She said what she learned about being a business owner this summer has led her to feel much more confident about her goal to open her own mixed-animal veterinary clinic in the future.
In addition to the VEA internship, Nary is also enhancing her veterinary education through her involvement in the Student Chapter of the American Association of Equine Practitioners, the Student Chapter of the American Association of Feline Practitioners, the Veterinary Business Management Association, and the Zoo, Exotics, & Wildlife Club.