The next time you visit the Center for Educational Technologies (CET), stop by to meet the newest member of the team. In the fall of 2021, Vanessa Manohar joined the team as an executive assistant to CET Director and Instructional Associate Professor, Dr. Nicola Ritter. Vanessa holds an Associates in Business Administration from Tarrant County College and Bachelor's in Spanish with a minor in Mexican American Studies from the University of Houston. Vanessa brings four decades of administrative experience to the Center. She has a wealth of experience in managing communications, schedules and meetings. She is also a talented writer, fact-checker, and human to @penny_pawtalks.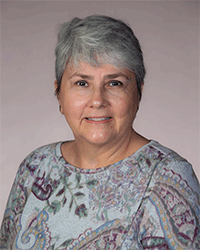 In her role, Vanessa will stay five steps ahead of the Director, tracking all of the administrative details, and clearing the path for the Director to make their greatest contribution to the Center. Vanessa will be a key asset to the Director by anticipating needs at an exceptionally high level, allowing the Director to develop vision and strategy for all aspects of the Center for Educational Technologies so that the Center can reach its research and commercialization goals.
Vanessa will ensure that administrative tasks and projects are completed with a high level of efficiency, confidentiality, accuracy, flexibility, and positivity to support the initiatives of the Director.
The CET and I are blessed to have Vanessa on our team. In the short time Vanessa has been with us, she has implemented new efficiencies and enabled me to contribute to the Center in ways that only I can. It is a true privilege to work alongside Vanessa and it is my hope that she will have a long and fruitful career with the Center."

said Dr. Nicola Ritter, the Director of the Center for Educational Technologies and Instructional Associate Professor at Texas A&M University College of Veterinary Medicine and Biomedical Sciences.